Atlantic City Fashion Week Season 10, you saved the best for last! I have watched John Leon's amazing work for a couple of years, and I had been eagerly anticipating my first chance to see one of his collections on the runway, and these spectacular bridals did not disappoint. His breathtaking 2017 Bridal Collection was the finale of the couture show and it was an absolute show-stopper.
After the show, I had an opportunity to ask him about why now is the right time to launch his bridal collection.
"I believe in taking your time and releasing your art work when you naturally feel it's the right time," John told me. "It's been three years since the last time I showcased a new collection. I did not want to release a collection because I had to, I wanted to release a collection I feel strong about. I need to emotionally feel a connection with a collection. A purpose."
And what were some of his goals and inspirations behind the new collection?
"This process started a few months ago when I began sketching a few designs here and there. Not enough designs for a full collection, just a few. The full collection came to me when I went to last year's Philadelphia Flower Show at The Convention Center. I saw this beautiful presentation of lavender hydrangea and chrysanthemum, ivory peony and ivory roses with black tips, black vines and twigs and white orchids behind this soft gray mountain-like texture background. It was absolutely stunning! I took some pictures, went home and designed the entire 10-piece collection in just a few hours.
"I knew from the beginning that I wanted to take this collection into a more modern direction. Bridal wear for the modern bride. The cuts are new, it's a little more relaxed. Not so traditional. I believe that the modern bride wants to look elegant, sophisticated, confident and weightless on her big day, and not feel heavy in a big Cinderella-like gown. I wanted to break the boundaries by making bridal soft, elegant, modern and sexy. That's the JNL Woman."
Why did he want to debut his new collection for the modern bride at Atlantic City Fashion Week?
"I decided to do it at ACFW because I've been doing it for years. I first started showcasing at their shows when they were doing Pink Fashion Week for breast cancer a few years back. Because I've been showcasing for ACFW for so long, Lamont and Jeana Bowling have become close friends. I've also designed many looks for Jeana throughout the years and because of it, I've designed custom for many more."
I asked John how he wants his clients to feel when wearing his clothes.
"Many things I've heard my clients say are "I've never felt so beautiful," "This is the best dress I have ever worn," "It's fitted and comfortable." Cut is very important in a garment of any size. You can easily give someone shape, a waist, transform their body. I want my clients to feel confident and happy."
And is there something different that goes into dressing a bride?
"As far as brides go, it's a whole different story. For brides, you need to bring it! My goal as a designer for the bridal client is to make them feel light and weightless on their special day. I want to take away all the tulle and corsets, complicated closers and make it comfortable, flirty, sophisticated and timeless. I made a lace jumpsuit with a five-yard train attached to the shoulders. It's sexy, but at the same time it's daring and fresh! You never think jumpsuit for bridal but that's the new modern bride. Traditional is boring! Out with the old and in with the new!"
I wish I knew John when I was looking for my wedding dress six years ago. Then again, John told me he could do these in any color, so maybe it's time for a second wedding! Your work is absolutely amazing, John, and I have no doubt that you're going to be a major player in the bridal space in the years to come.
Here are some of the looks from this breathtaking collection on the ACFW runway. You can learn more at John Leon Fashion Designs www.johnjnlleon.com.
Model Andrea Graham.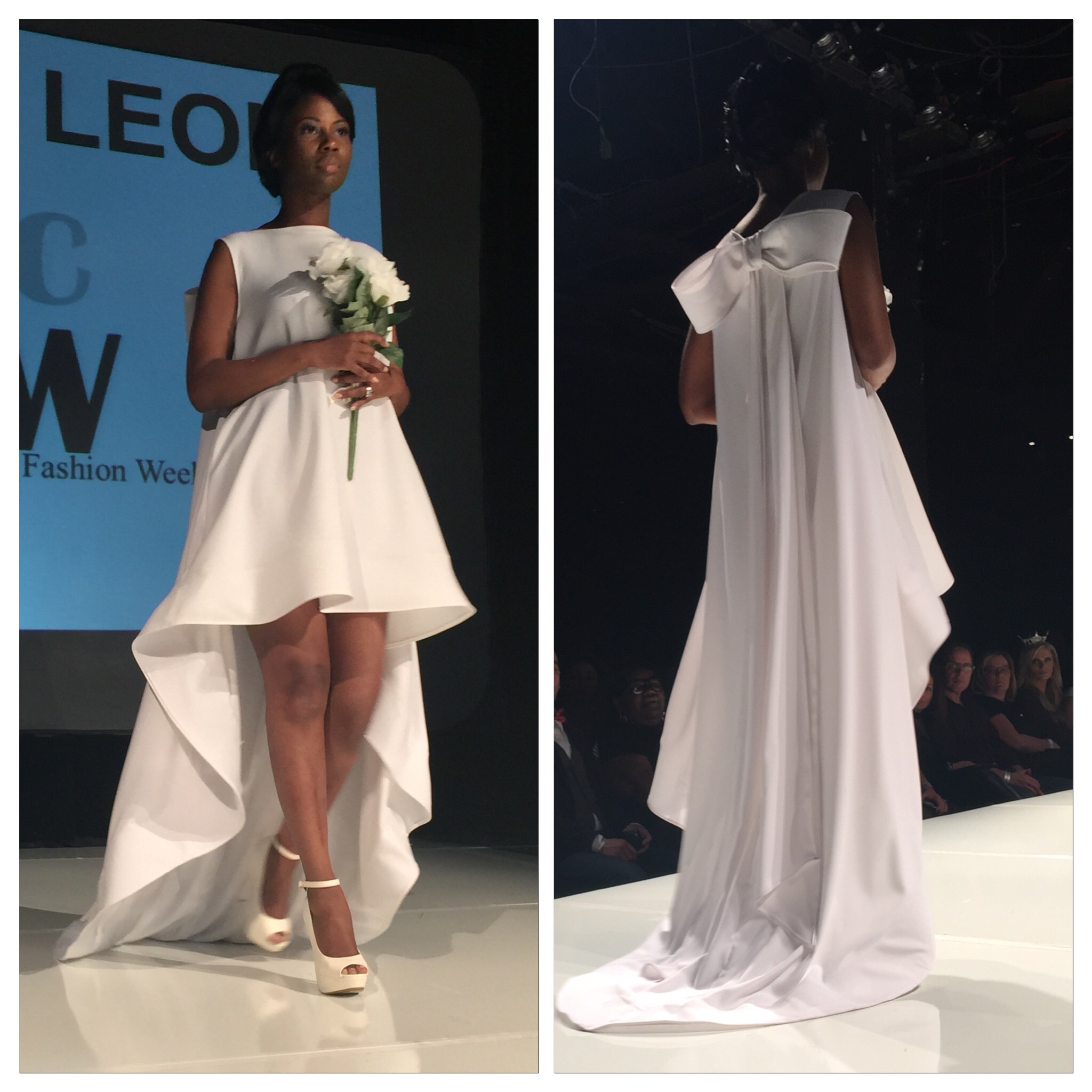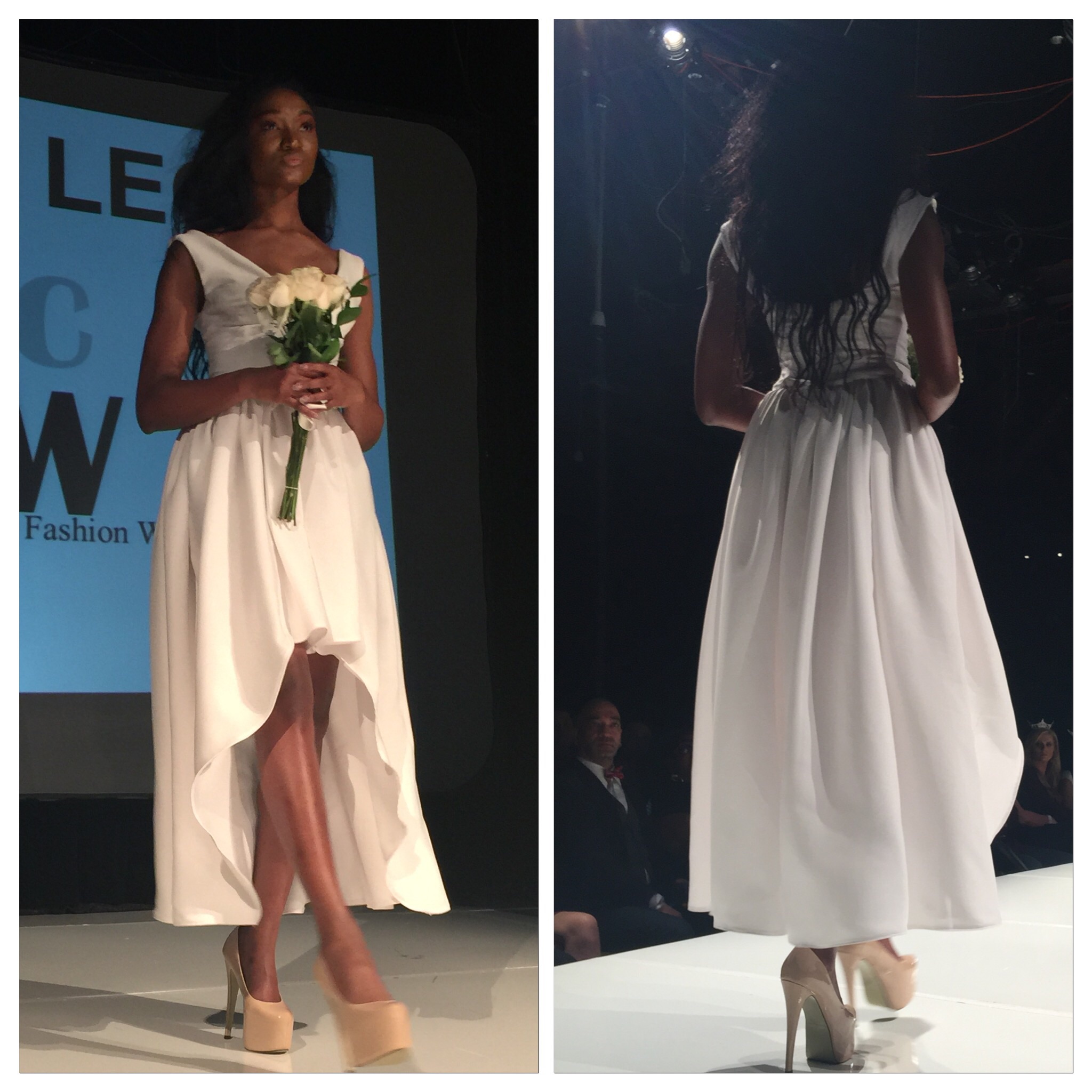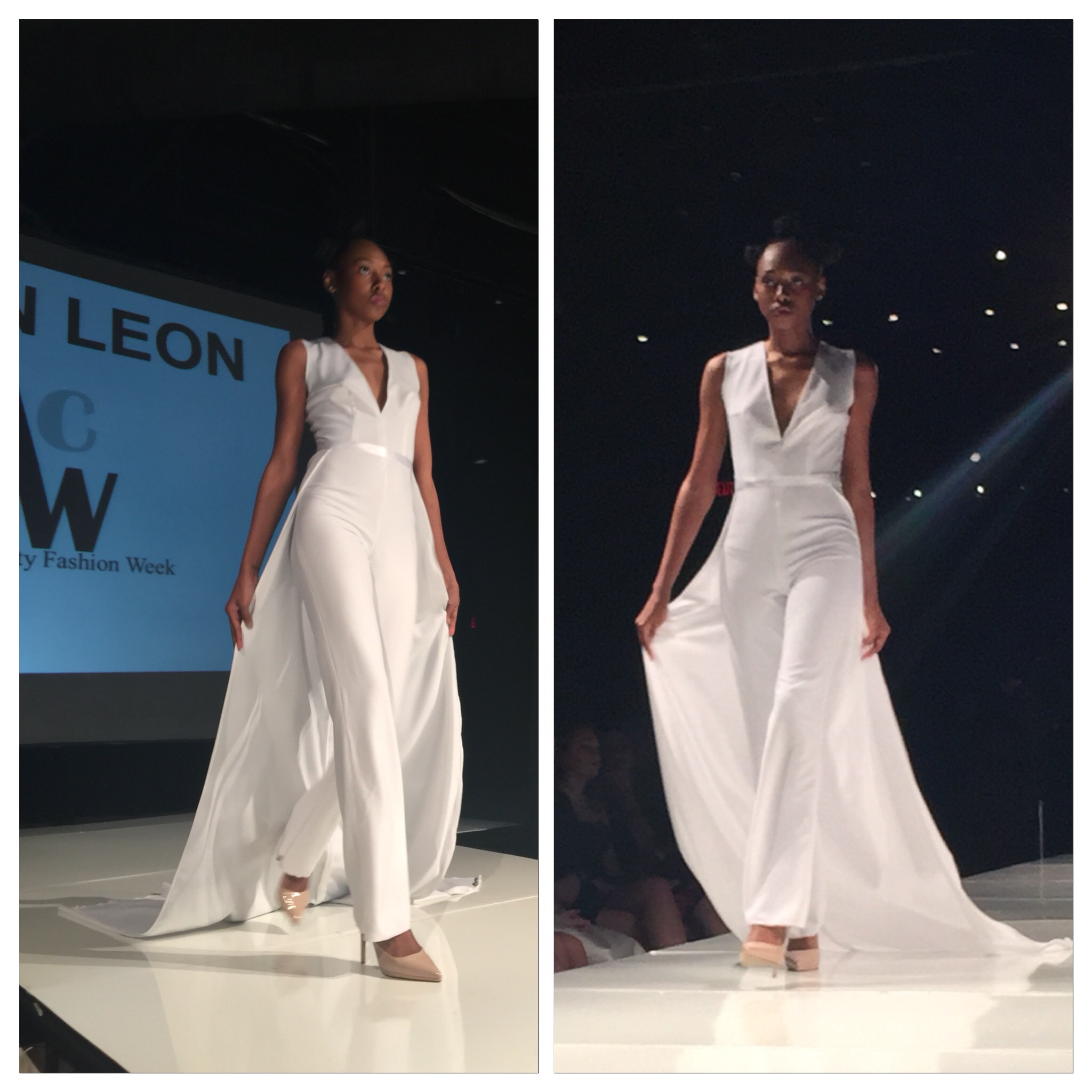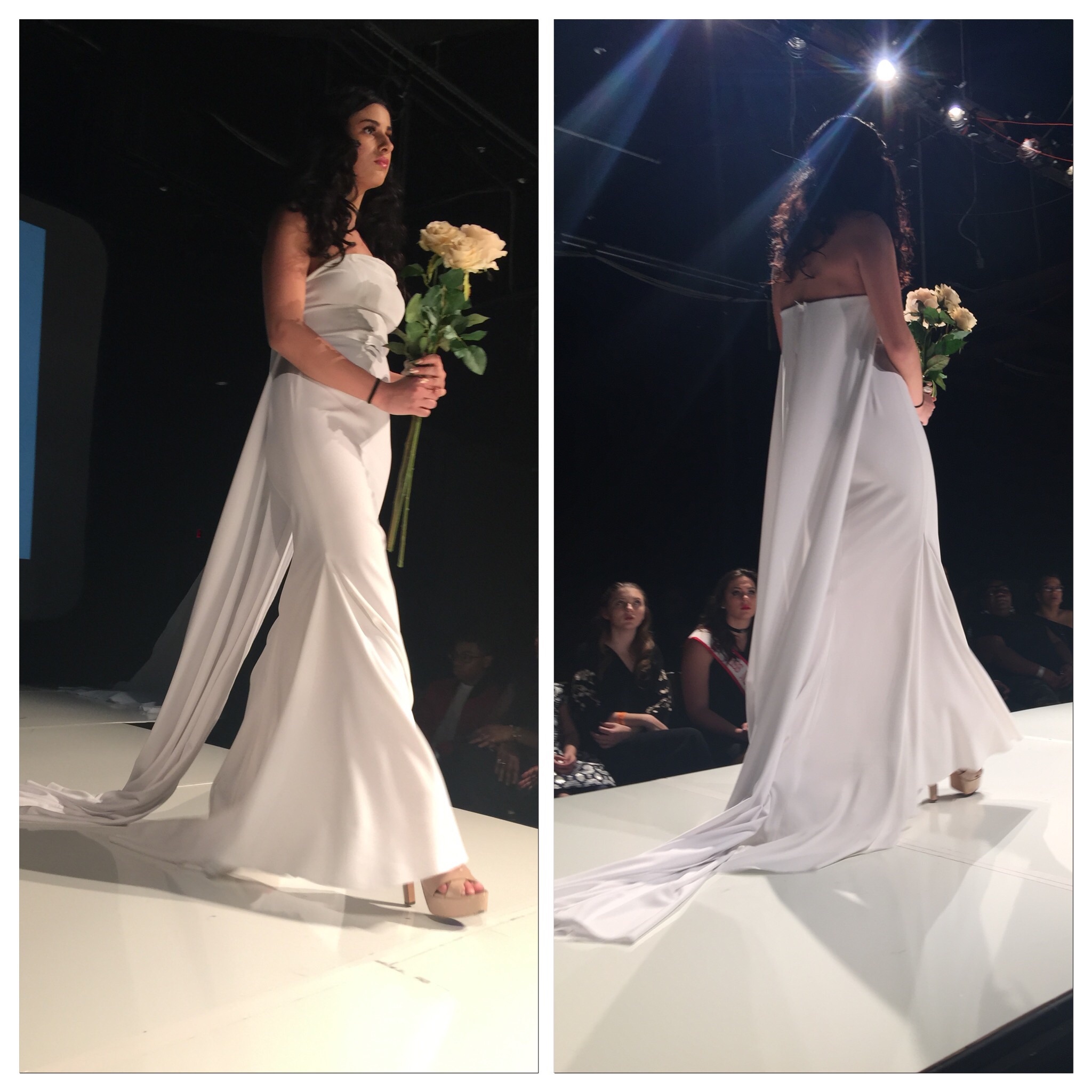 Model Samantha Grandy is looks magical this magnificent piece, one of the highlights of the show and a crowd favorite.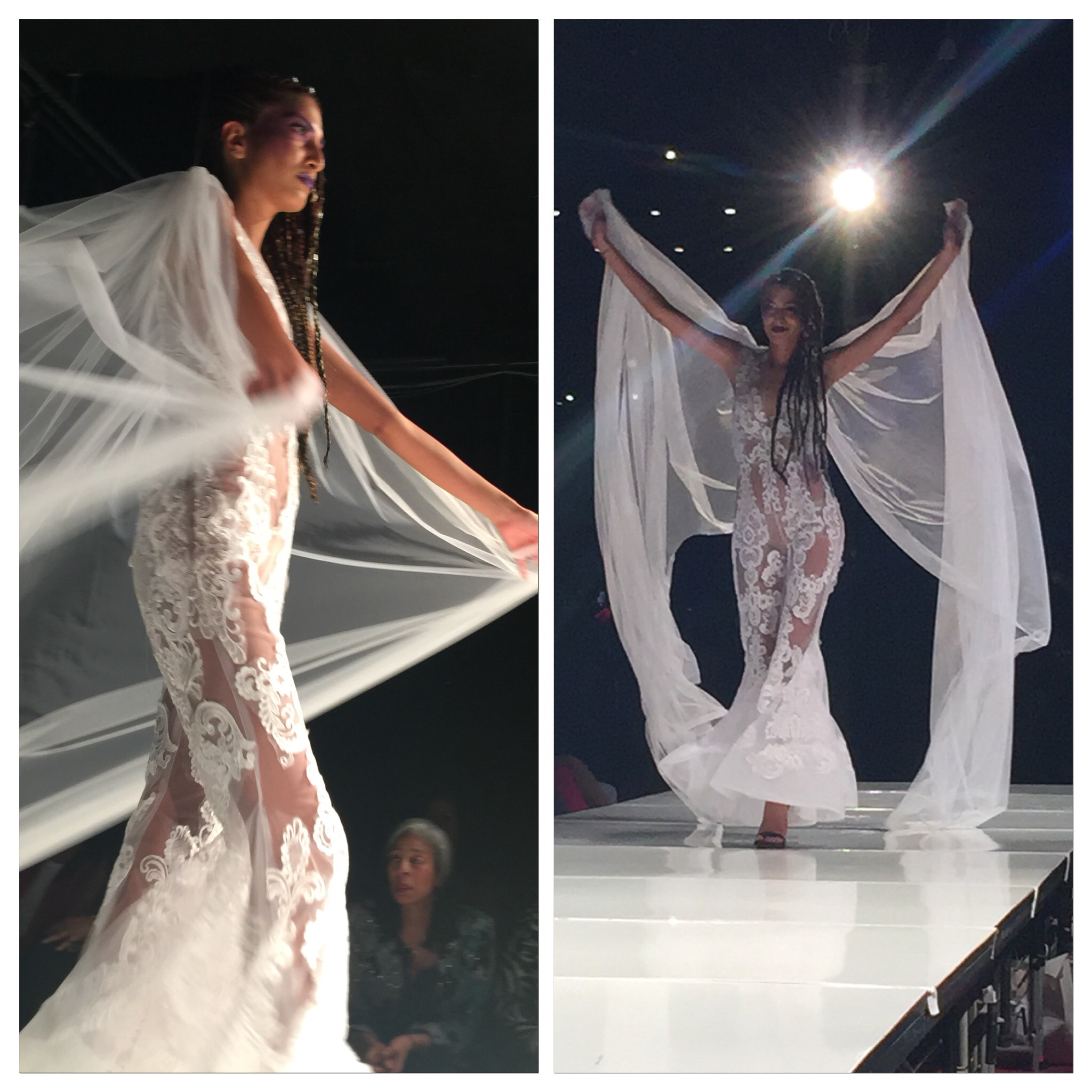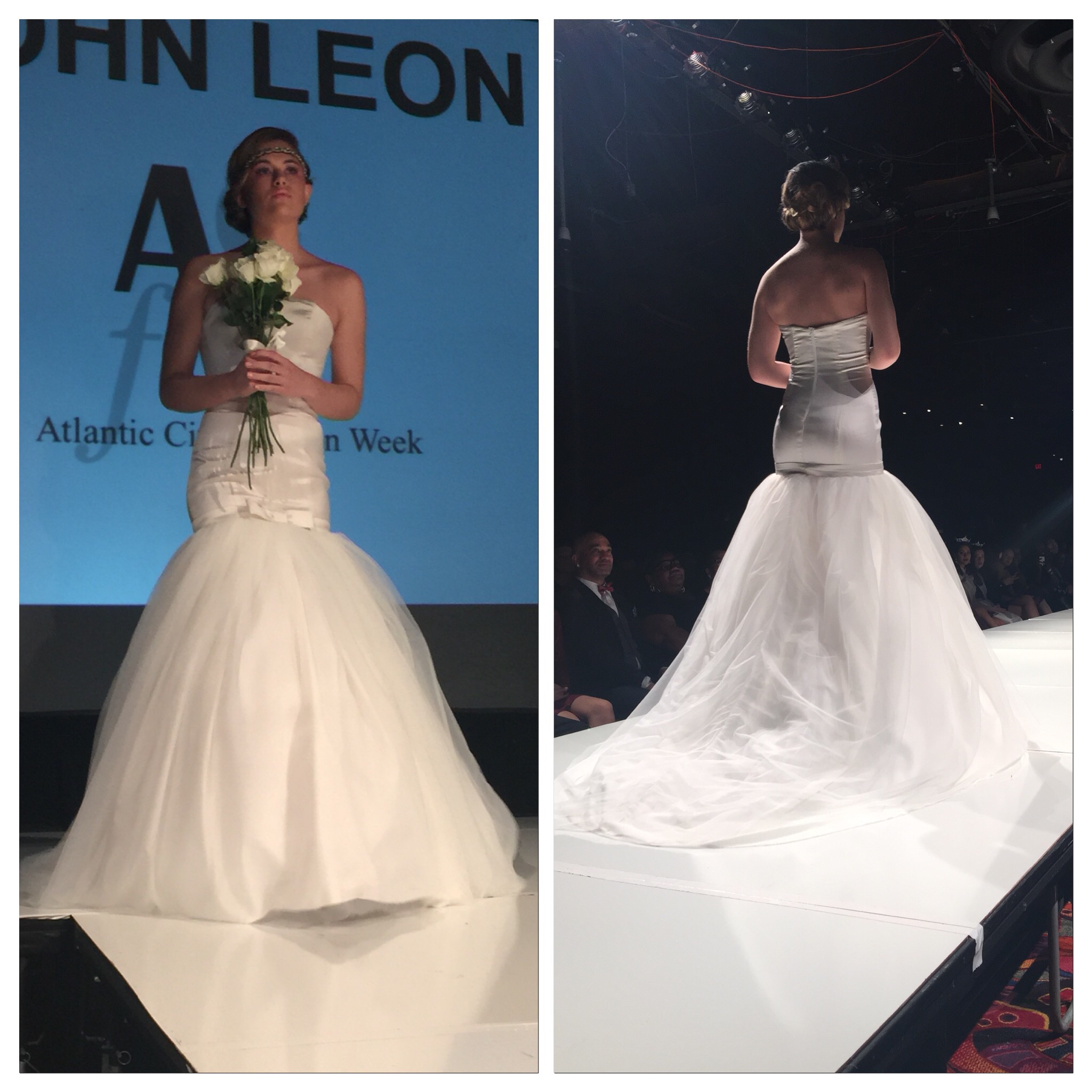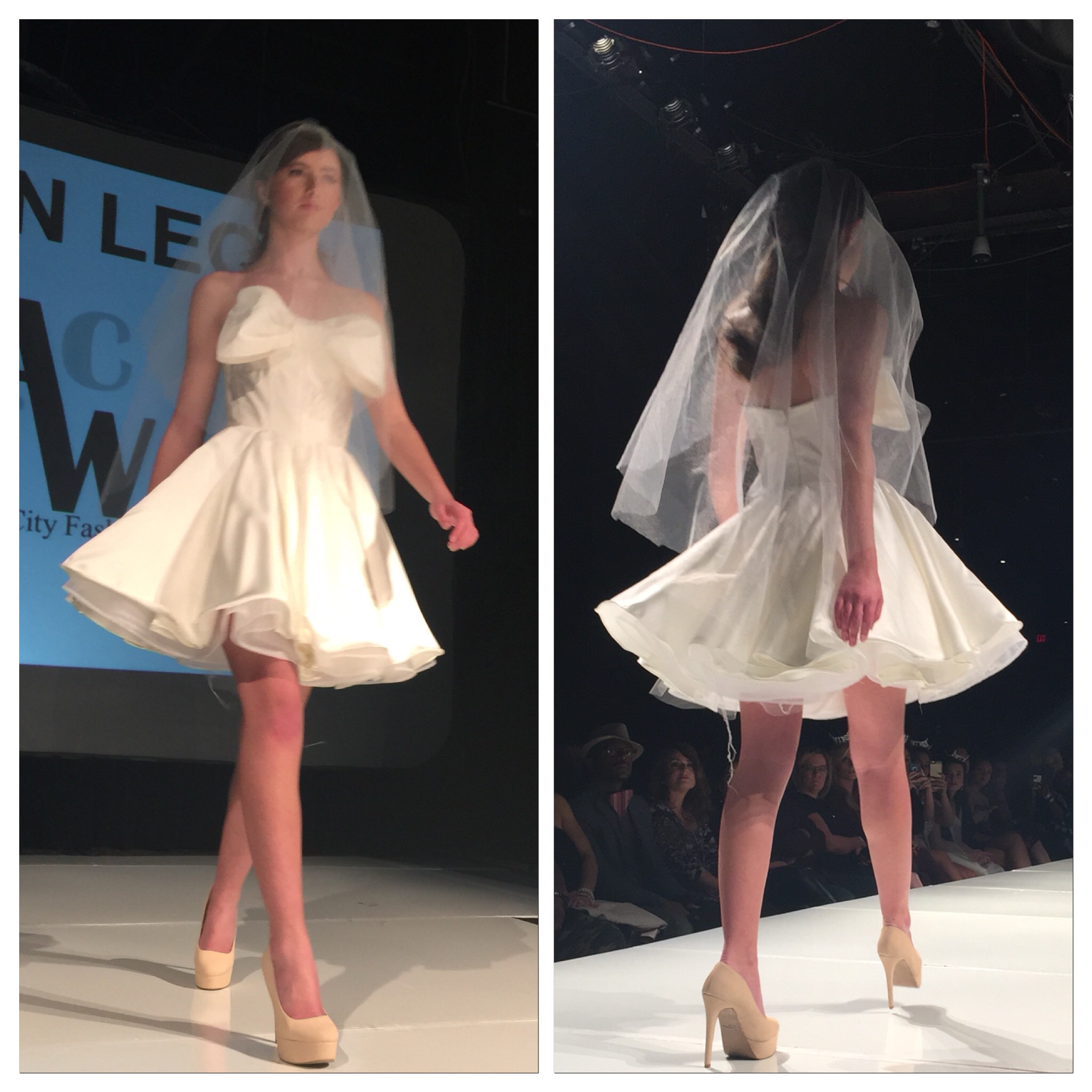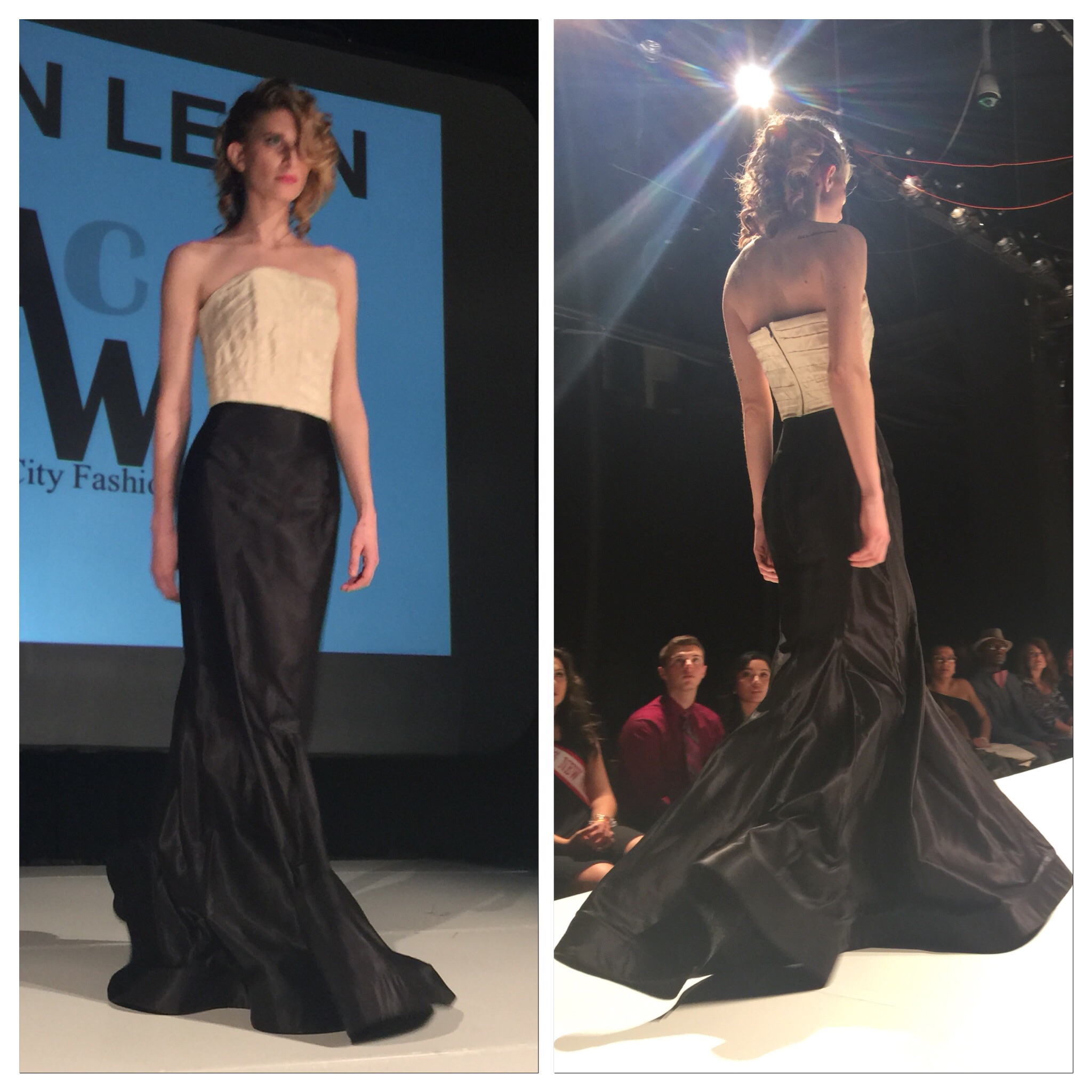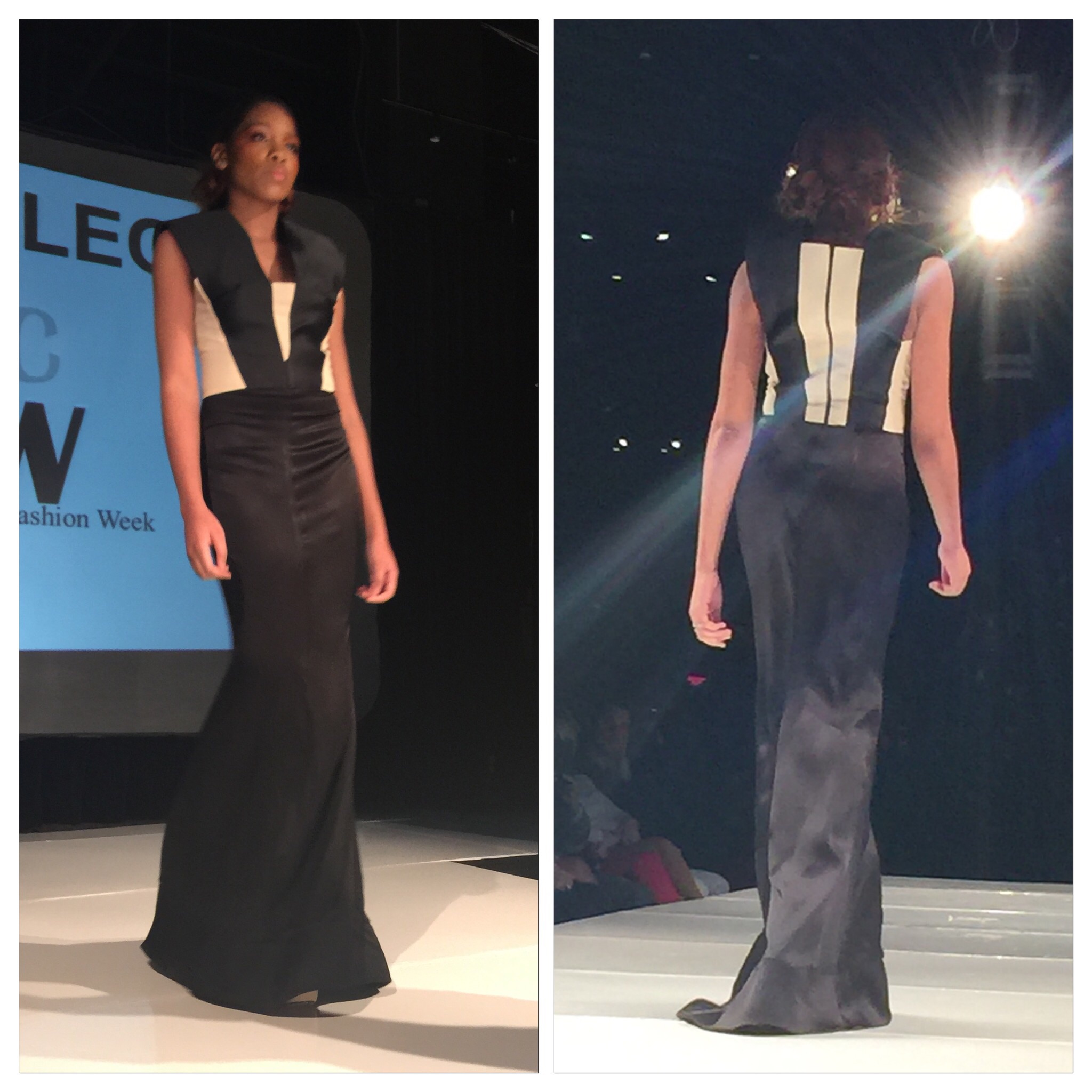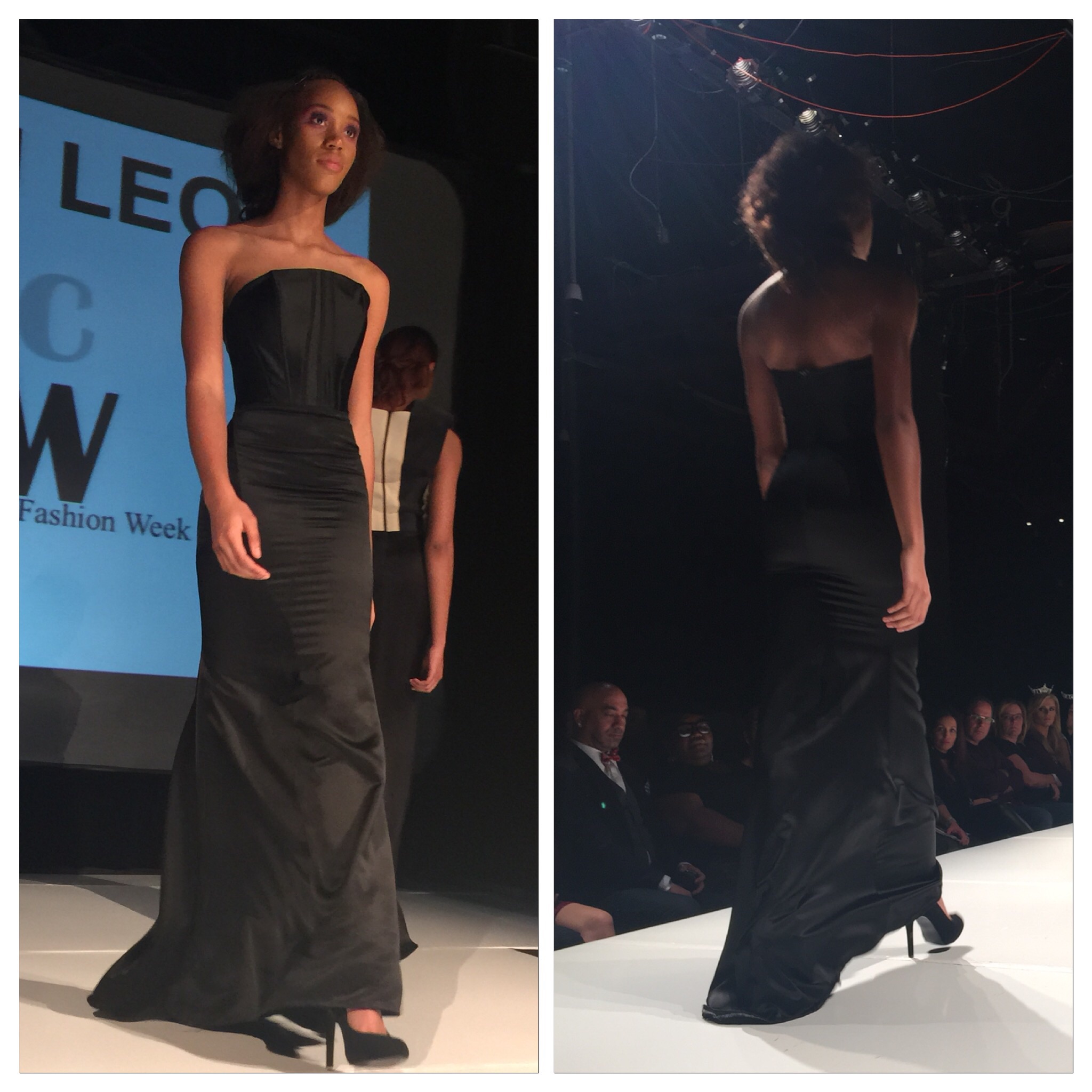 John and I all smiles after the show!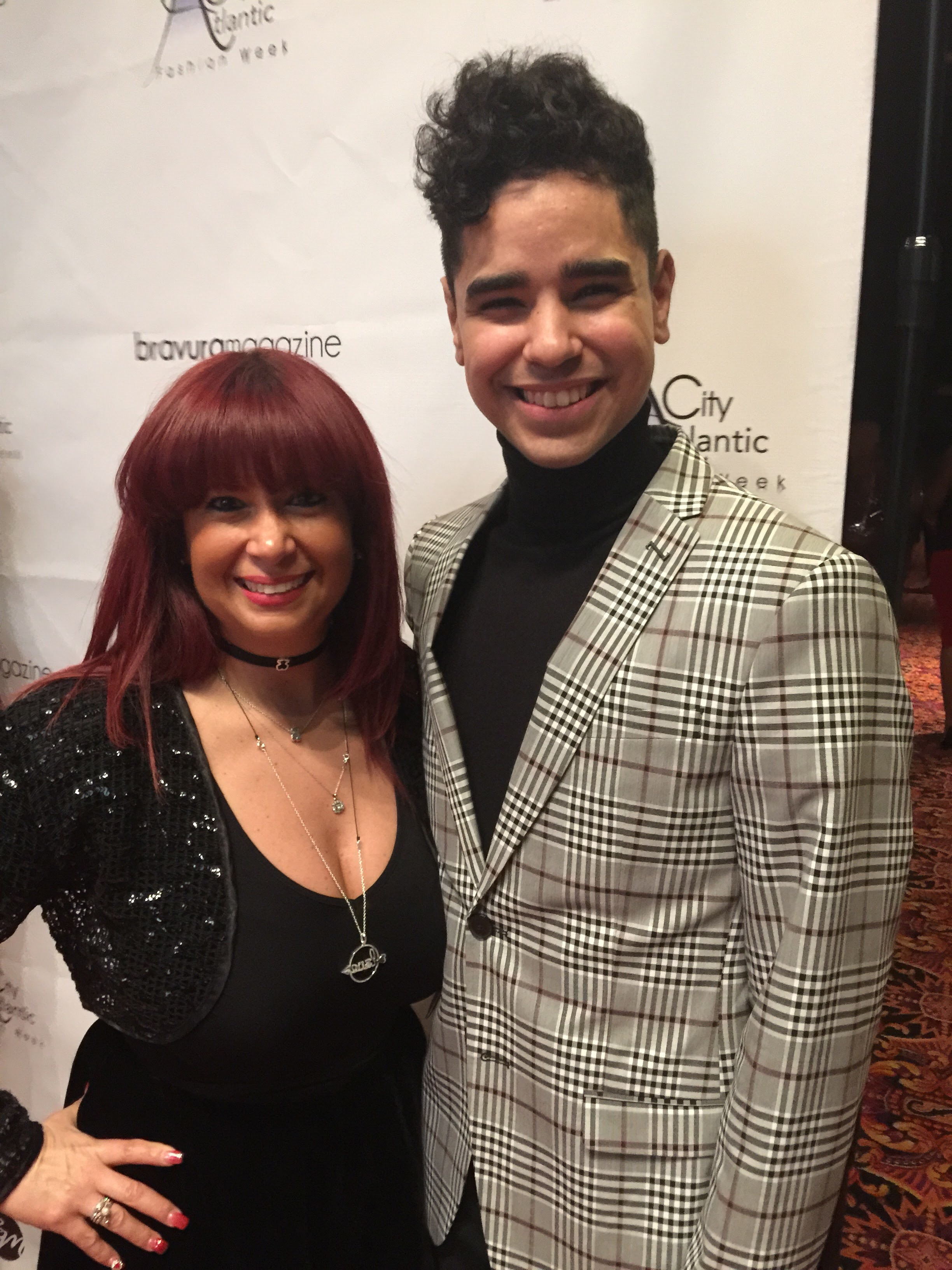 Watch the full collection!