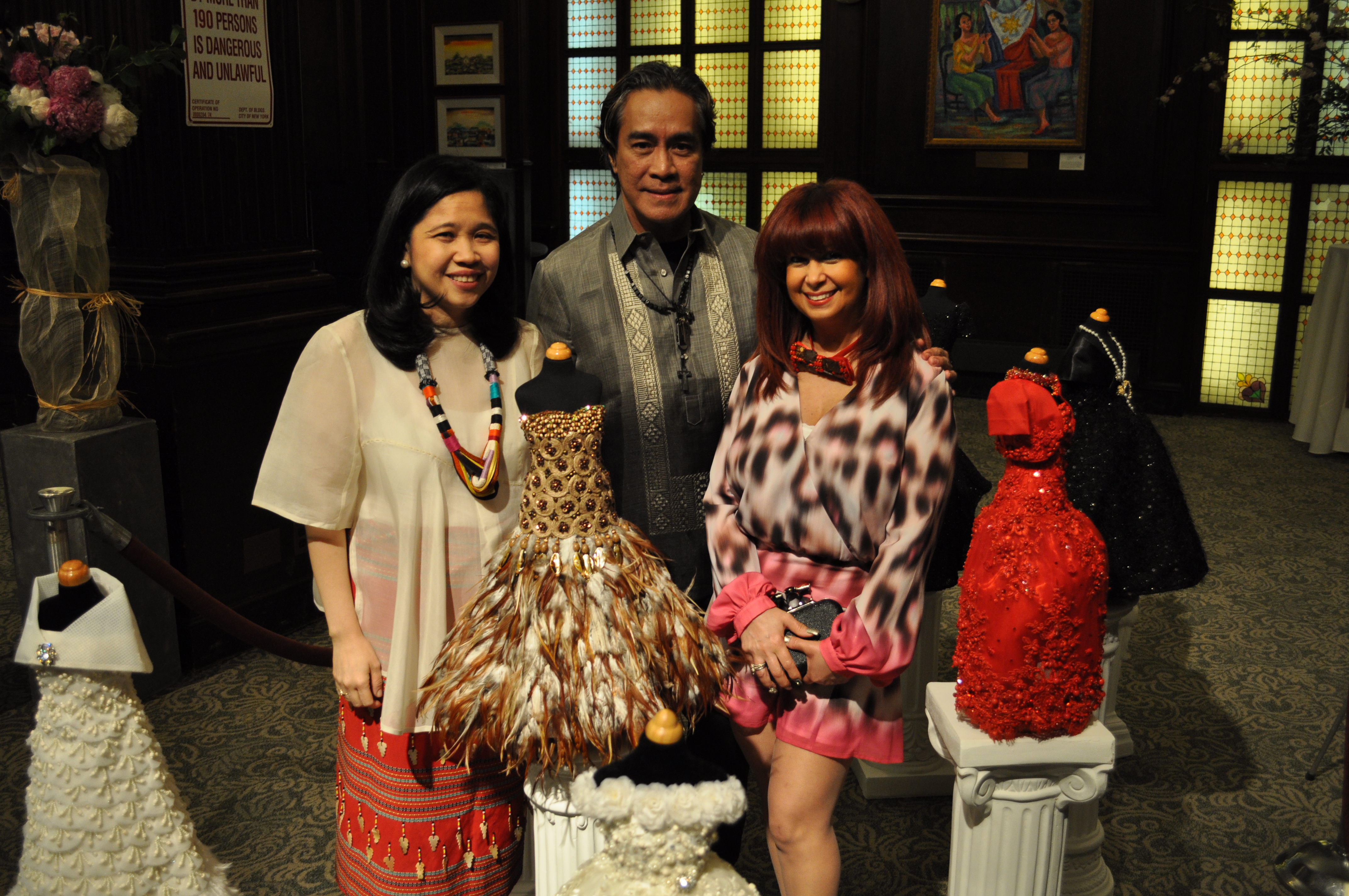 There have been long journeys for designer John Ablaza. Growing up in the Philippines, he found two of the great joys of his life – horticulture and fashion – at the hands of grandmother. In their family garden, he is inspired by the the sweet fragrance of the sampaguita (Jasminum sambac), the national flower of the Philippines, that he learns to sew together with her. The love of the natural beauty he sees around him, and the skill to turn it into something magical, have been creative gifts throughout his life.
Fast forward many years. John is standing in a different garden thousands of miles away: at the beautiful estate of the Amar family in Stony Point, NY. He is surrounded by family, friends and supporters, celebrating a 30-year career in fashion. The breathtaking runway show they've just witnessed, featuring models framed by fountains and fire, showcases a designer at the height of his creative energy. The polished stones that border the reflective pool graced by high-couture gowns and other creations that have traveled the world. It's every bit the fashion spectacle any celebrity fashion designer would relish, soaking in the adoration of an appreciative crowd. But John Ablaza isn't an ordinary fashion designer.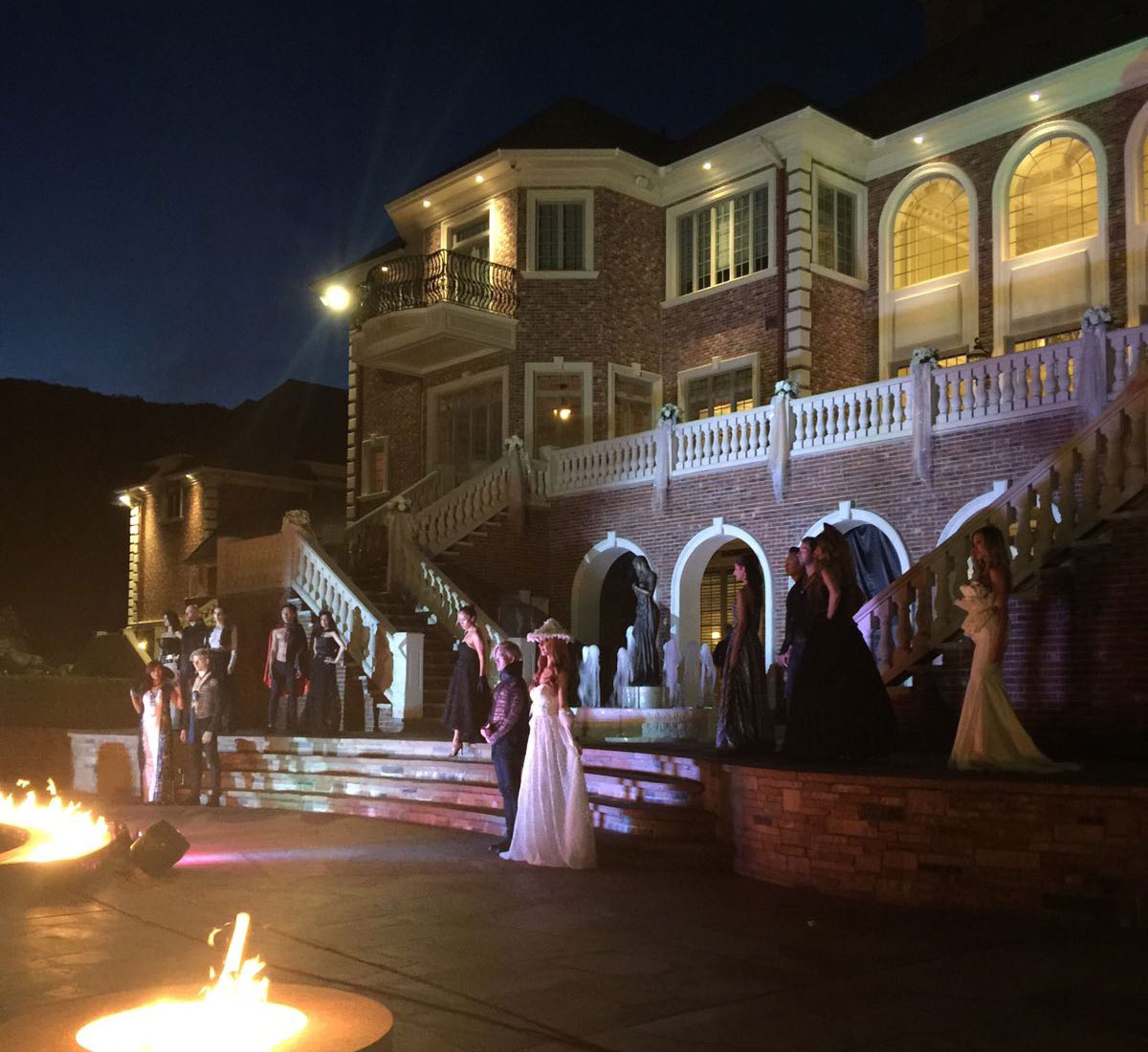 His Story
It's a couple of weeks after the "John Ablaza: 30 Years Behind The Seams" celebration. I'm sitting with John in a quieter setting, at the home of Ronnie and Mayette de Dios, where he's staying while here in the United States. I've learned that John is someone who puts everything he has into the things he really cares about. When he's working, he doesn't even think about eating. The passion to create takes over his entire being.
"It's about seeing the world differently," he tells me. "Everything I do has a meaning behind it. It speaks to me, and to the people who wear my clothes."
From a very early age growing up in the Philippines, he loves nature and its beauty. He goes to school and studies horticulture, garden cultivation and management, hoping to build a career for himself. His talents earn him the attention of Philippine First Lady Imelda Marcos, who hires him to manage her legendary gardens. It is his first break and he takes advantage of the opportunity to set out into the world. Marcos is one of the many women who helped shape his life and he still has a great affection for her.
From Flowers To Fashion
Eventually, his work in horticultural design leads him to move to Taipei. He works for several years at a major hotel handling their floral arrangements. The hotel hosts frequent international fashion events, and John meets the designers who hold shows there. He looks at the clothes, examines how they are made, marvels at the craftsmanship and elegance.
"I began my career in fashion as a wardrobe assistant at those fashion shows. I would hang around and help out where I could, just to learn. I would ask the designers if they thought I could become a designer myself. They said that if it was something I really loved to do, I could do it.  They offered to help me and teach me about fashion. I went back home and started travelling to fashion shows around the world, learning about the industry."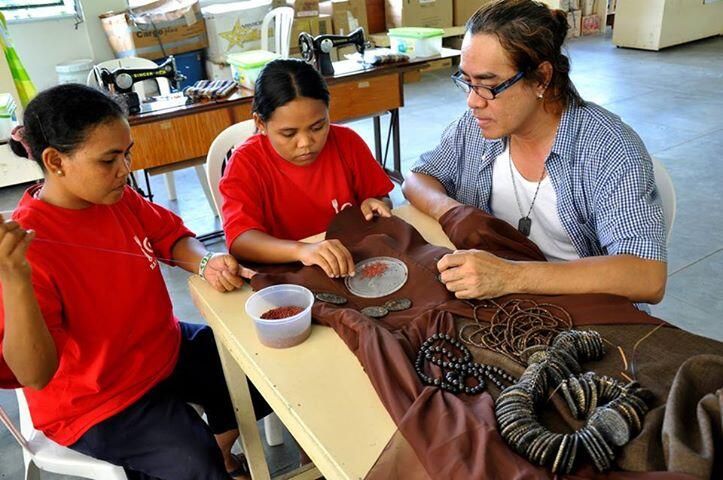 A Passion For Charity
At the finale of John's Stony Point show, he speaks to the audience and explains that he will not do any events that do not benefit charity. When speaking with him about the causes he cares about, he lights up. Clearly, his passion for helping others runs deep.
"From the very beginning of my fashion career, I wanted my work to support others. I'm not in this for the money, or fame, or anything to do with the fashion industry. If it was just about all of that, I wouldn't be able to do it. I would have walked away. It is what's in my heart that matters."
His heart is with the people of the Philippines. Look at a John Ablaza creation, and you're seeing a virtual economic stimulus policy for tribespeople in his home country. As we examine one of his gowns, he explains.
"I look for sustainable materials that we can use. The gowns and bow ties that you're looking at are made with seeds, bark reeds and coco beads, all of which grow around the Philippines. My clothes support the people who grow and harvest them. Other people will polish, carve or otherwise prepare the materials. I show people how to create the products. I am very hands-on with everything I do, and get very involved with every step of the process."
He works extensively with the local Mangyan tribe, indigenous groups found on the island of Mindoro, creating economic opportunities they would never have otherwise.
"I've had so many struggles. There were times when I had no money, and had to figure out how to keep going.
"Four years ago, my home burned down and I lost so many material things. But, I did not question why that would happen to me. I only knew that there were others with a greater needed and I had to figure out ways to carry on."
I almost start crying when I think about that contrast. People on a tribal island, on the other side of world, cutting up coconut shells or peeling bark off trees, being able to feed their families through their labor. Then, those simple gifts of nature being used to create beautiful high-couture gowns that would be comfortably worn by the richest, most famous women in the world, on any red carpet or gala ball. The beauty on both ends of that equation is equally astonishing.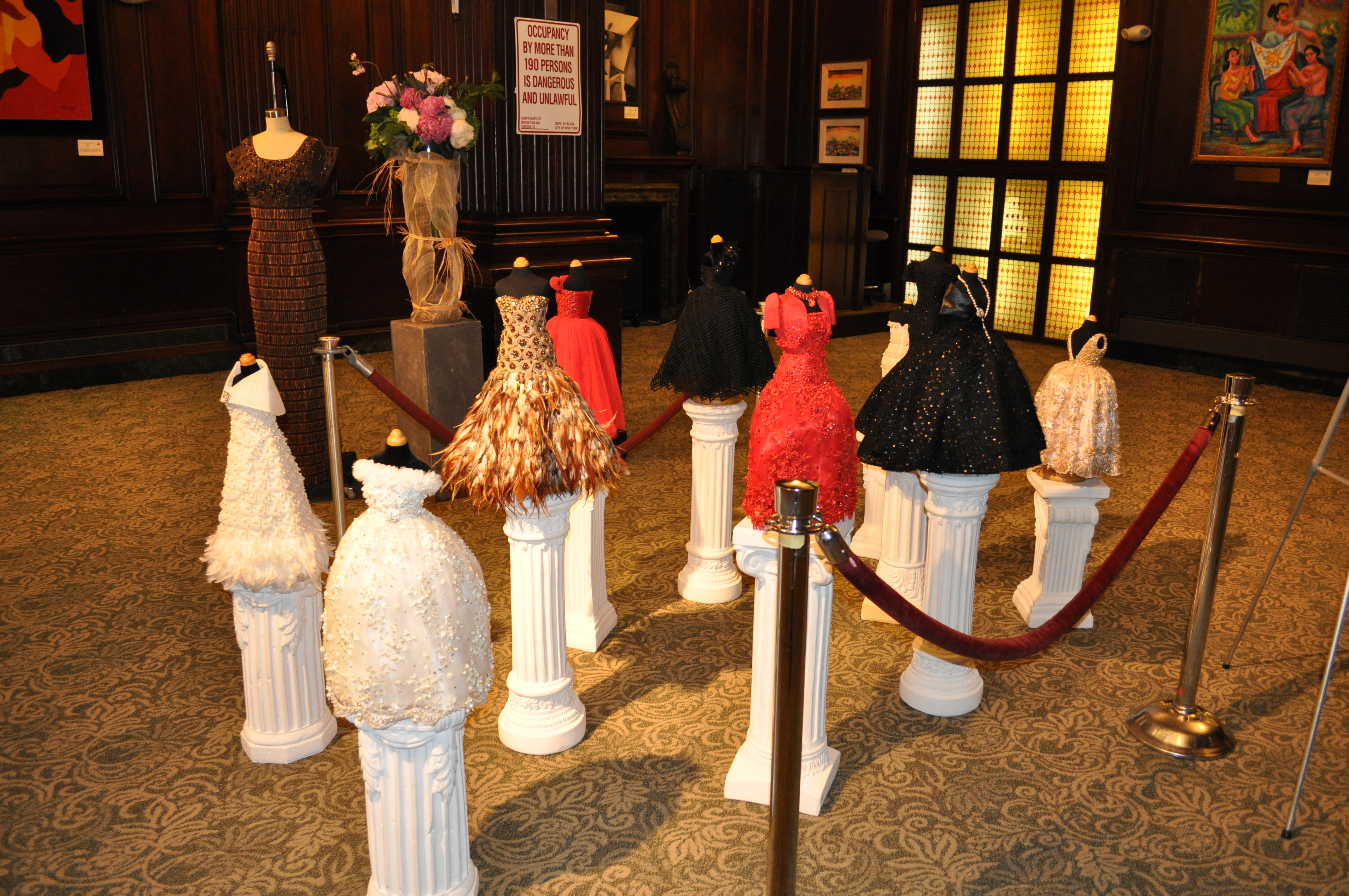 Le Petite Couture
"This has been a dream of mine for many years," John says as he gently touches the small mannequin, which is about two-feet tall. "I feel it is the next step in my career."
VIP guests arriving for the Stony Point celebration were greeted at the entrance foyer of the estate, and then escorted around back for cocktails. What they may have not realized is that they were being welcomed by one of the most important parts of the evening, the debut of John Ablaza's Le Petite Couture collection.
Surrounding the foyer, on little pedestals, were nine miniature gowns. These are not mere doll dresses, or small reproductions, but exquisite gowns made with all of the care, detail and craftsmanship as their full-sized counterparts.
"I made 30 of these miniatures in about 100 days, almost all of the work done by hand. Each one of them is named for a woman who has made a difference in my life. They are all one-of-a-kind and will not be reproduced.
"I have received offers to display these pieces around the world. I hope to showcase them with my pride for Philippine culture and fashion."
"John Ablaza 30 Years Behind the Seams" wasn't just a distinguished designer looking back on his long career, seeking a retrospective or nostalgia. It was the beginning of a new chapter, a way to show where he is going by reflecting on where he's been.
Creating Legacy
Last year, John was offered an opportunity by the U.S. Embassy in Zimbabwe to conduct a mentorship program for aspiring fashion designers. He calls it one of the most rewarding experiencing of his life.
"When I started working with them, they seemed so hopeless. They would sit with their heads down. I told them I understood their situation, the challenges they faced living in that country. But, they are so talented, so creative. In the time I spent with them, they were so receptive to what I had to say to them. It gave them hope that they could achieve their dreams.
"I want to replicate that around the world. I want to mentor designers who may not have the same opportunities that I have. I want them to learn from what I have done, understand my creative process, and be able to achieve great things."
His dream now is to inspire aspiring designers around the world, especially from areas that may not typically offer the right opportunities, to follow what is in their hearts. He doesn't just want to inspire people to be creative in their designs, but learn from his example to work in sustainable materials, to create jobs and economic opportunities, and to promote cultural awareness.
"I hope to find places around the world where I can begin mentorship programs. Find people who can learn from my example, and then be an example for others. It is what I want to spend the next few years focusing on. It's exciting to think about the possibilities, to continue to tell my story and inspire so many more people."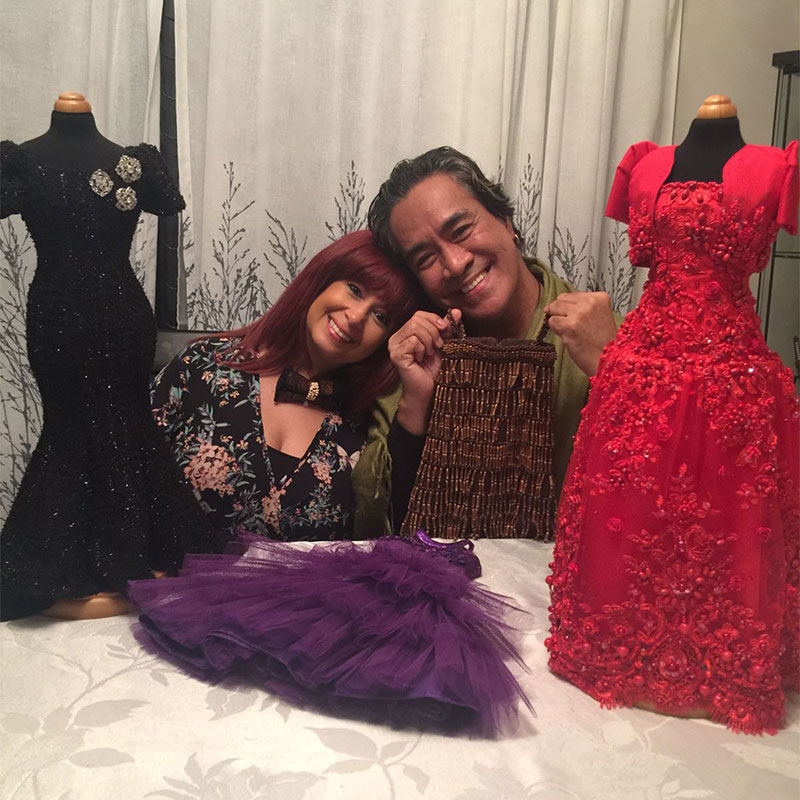 And The Story Continues …
I felt so grateful after spending a few hours with John for this interview. Being around John is an experience in being grateful, appreciating others. I asked if he had any final thoughts about the "John Ablaza: 30 Years Behind The Seams" celebration that first brought us together and, of course, he immediately thought about everyone except himself.
"Oh, please be sure to include how grateful I am to Raj and Manju Amar for being our hosts for the evening. Without them, it could not have happened. They have given me a wonderful gift. Please also mention how much I loved the speech that Mithi Aquino-Thomas gave to begin the show. I read it afterwards and it brought tears to my eyes. So many people worked so hard to make this a special celebration. There were too many who really helped and their names are etched in my heart and mind."
But, what about himself? What did he take away from the show?
"I was at a crossroads in my life, about what my place is in the fashion world. Part of me wondered what I should do next. Creating Le Petite Couture and seeing the excitement around it has given me a new motivation. I want that to travel the world, maybe showcase at the Smithsonian or The Met, and bring lots of attention to the Philippines.
"I am excited at the idea of mentorship. It is something that can be my legacy. I hope that you will help continue to tell my story."
It is clear that John Ablaza is about to start another long journey, and I cannot wait to see where it takes him.